Sookie La La
FFS Friday
So what has been giving CTT the shits this week
Who is CTT?
Cyril the Tosser aka CTT is a 36 year old avid Carlton supporter. He proudly owns a life size cardboard cut out of Chris Judd and is deliriously terrified of spiders. Religious ceremonies are performed at Juddy's feet every morning and it is speculated there could be lewd sexual acts happening when the lights go out. CTT is married to my gorgeous friend Nicole aka Schnoopy who is completely undeserving of his antics.
My Saturday started with being out of work so late that I couldn't pick my boy up from his footy presentation day. I love working so many hours that I miss out on stuff like that...
FFS
So I had to go to another parents place to pick him up. Ended up having a few beers with the dad, quite a pleasant afternoon.
No FFS there
.
Had to stop drinking because we were going out somewhere for dinner...
FFS
Maggie was asleep when we got there, so cuddles were completely off the agenda..
FFS
And my footy team lost to Gold Coast…
FFS
Sarah finally had some macarons I could eat. So now some woman from some other blog hates my guts. However, the salted caramel ones are well worth the hatred being expressed towards me. Big shout out to Parental Parody...
.FFS
My better half, Schnoopy is off to Bali next week. With all the fun that comes with having our own business, (
Scrapbooks From The Heart in Canning Vale)
, it means I can't go...
FFS
My free advertising for our shop is hidden behind a very thin disguise these days..
FFS
It means I'll be running the shop for a few days..
.FFS
I know nothing about Scrapbooking...
FFS
I support Carlton. I know that means nothing to most people reading this, but when your coach gets sacked because your team loses to Gold Coast, it's heartbreaking on a whole lot of levels...
FFS
I support Carlton…
FFS
Back to Sarah now ...
OK so I mentioned earlier in the week that I have absolutely nothing to whinge about this week and it's still true. FFS Friday has been going for about 47 straight weeks now and this is the first time EVER! I am sure the universe will strike me down with a shit load of karma now just for mentioning how good my week has been. So stay tuned.
In the meantime if you live in Perth please head to Scrapbooks From The Heart next week and give CTT the absolute shits about everything scrapbooking. This would totally make my week awesome!
cheaper than mofo therapy
For more laughs at our expense check out last week's

FFS Friday
I would love to read about other peoples FFS Fridays

. Primarily because it will make me feel better about myself. If you are a fellow blogger please grab the FFS button and add your link below and provide me with a weekend's worth of irreverent entertaining reading.
If you are not a blogger please feel free to leave all your FFS Friday worthy rants in the comment section below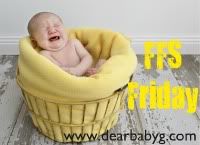 Continue Reading ...